Welcome to The Golf Club at Deer Chase
A Public Course in a Private Setting
Nestled in the Auglaize River Valley is The Golf Club at Deer Chase. Come and enjoy 18 holes on our public course that offers private club amenities including well-maintained greens in a beautiful, peaceful, and quiet atmosphere. We offer experienced professionals to help improve your game or direct you to the equipment that's right for you. Come by today to take a tour of our beautiful course by taking Hwy. 54 to A-road, 3.4 miles turn right onto Lowell Williams Road, 1.4 miles turn left into The Golf Club at Deer Chase.
Our full-service pro shop has the latest fashions in men's and women's golf attire. You will also find quality balls, shoes, headgear, and gloves to keep you on top of your game. Whether you bring your own clubs or rent from Deer Chase, you will have a great experience on our par 71 course.
The Golf Club at Deer Chase also offers a banquet hall capable of accommodating up to 150 guests. Weddings, Receptions, Corporate outings, Family reunions, we look forward to helping you make your event special!            
!!!DATE CHANGE!!!
The Last Sunday Scramble of 2018 has been moved to Sunday October 21st at 10:00 AM!
With the Chiefs game being pushed back to Sunday night, and the weather looking good, I have decided to move up our last Sunday Scramble from the 28th to the 21st. This will be an extra special Sunday Scramble as it will also be a fundraiser for our staff and great way to end Customer Appreciation Week (see below). All golf revenue will go to a staff holiday fund, in hopes of being able to offer some relief from the financial burdens of Winter. You participation is welcomed and greatly appreciated!
$120 per two person team for the Public
$80 per two person team for Members
*Includes golf with cart, practice balls, and lunch. 
There will be great deals in the Pro Shop, beer specials in the grill, plus LOTS OF PRIZES AND GIVEAWAYS You don't want to miss out!
CALL THE PRO SHOP AT 573-346-6117 TO SIGN UP YOUR TEAM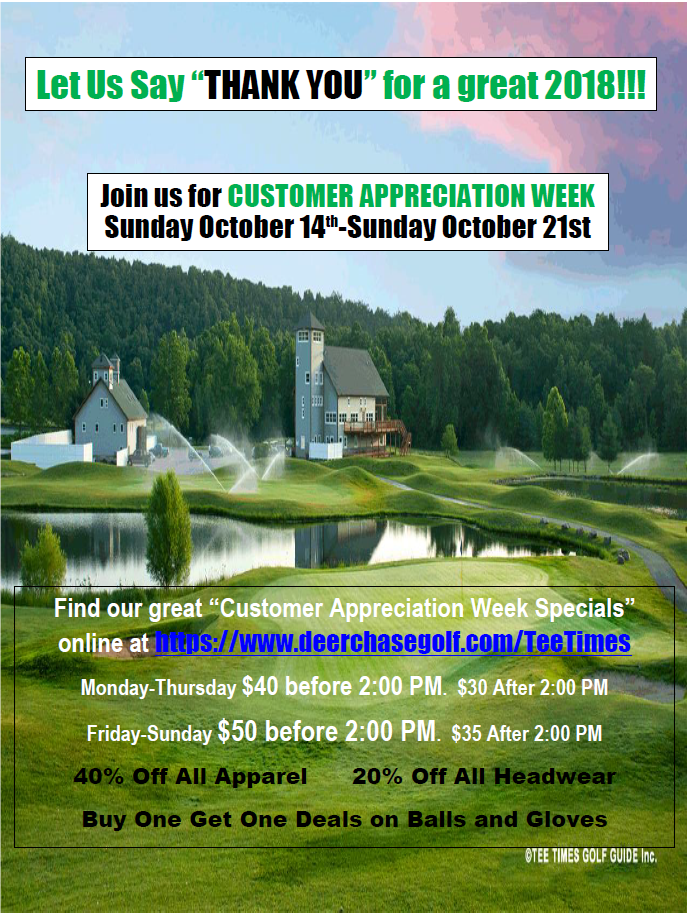 ​ 
!!! STILL TIME TO JOIN IN 2018 !!!
Single Membership: $200 Tax Included  !!!
Couples Membership: $300 Tax Included !!!
Memberships are CART INCLUDED and are good SEVEN DAYS A WEEK*
*Some days may be unavailable due to tournaments or group outings. Week day (Mon-Thurs) times may be made up to 30 days in advance. Weekend (Fri-Sun) times may be made up to 7 days in advance. 

Sign up for our email list to get the latest news and promotions