Welcome to The Golf Club at Deer Chase
A Public Course in a Private Setting
Nestled in the Auglaize River Valley is The Golf Club at Deer Chase. Come and enjoy 18 holes on our public course that offers private club amenities including well-maintained greens in a beautiful, peaceful, and quiet atmosphere. We offer experienced professionals to help improve your game or direct you to the equipment that's right for you. Come by today to take a tour of our beautiful course by taking Hwy. 54 to A-road, 3.4 miles turn right onto Lowell Williams Road, 1.4 miles turn left into The Golf Club at Deer Chase.
Our full-service pro shop has the latest fashions in men's and women's golf attire. You will also find quality balls, shoes, headgear, and gloves to keep you on top of your game. Whether you bring your own clubs or rent from Deer Chase, you will have a great experience on our par 71 course.
The Golf Club at Deer Chase also offers a banquet hall capable of accommodating up to 150 guests. Weddings, Receptions, Corporate outings, Family reunions, we look forward to helping you make your event special!    
Oops they did it again.  Vacation News had another misprint on our ad. This coupon is only valid after 1:00 PM and is not valid Labor Day Weekend. Sorry for any inconvenience, but this was not our mistake.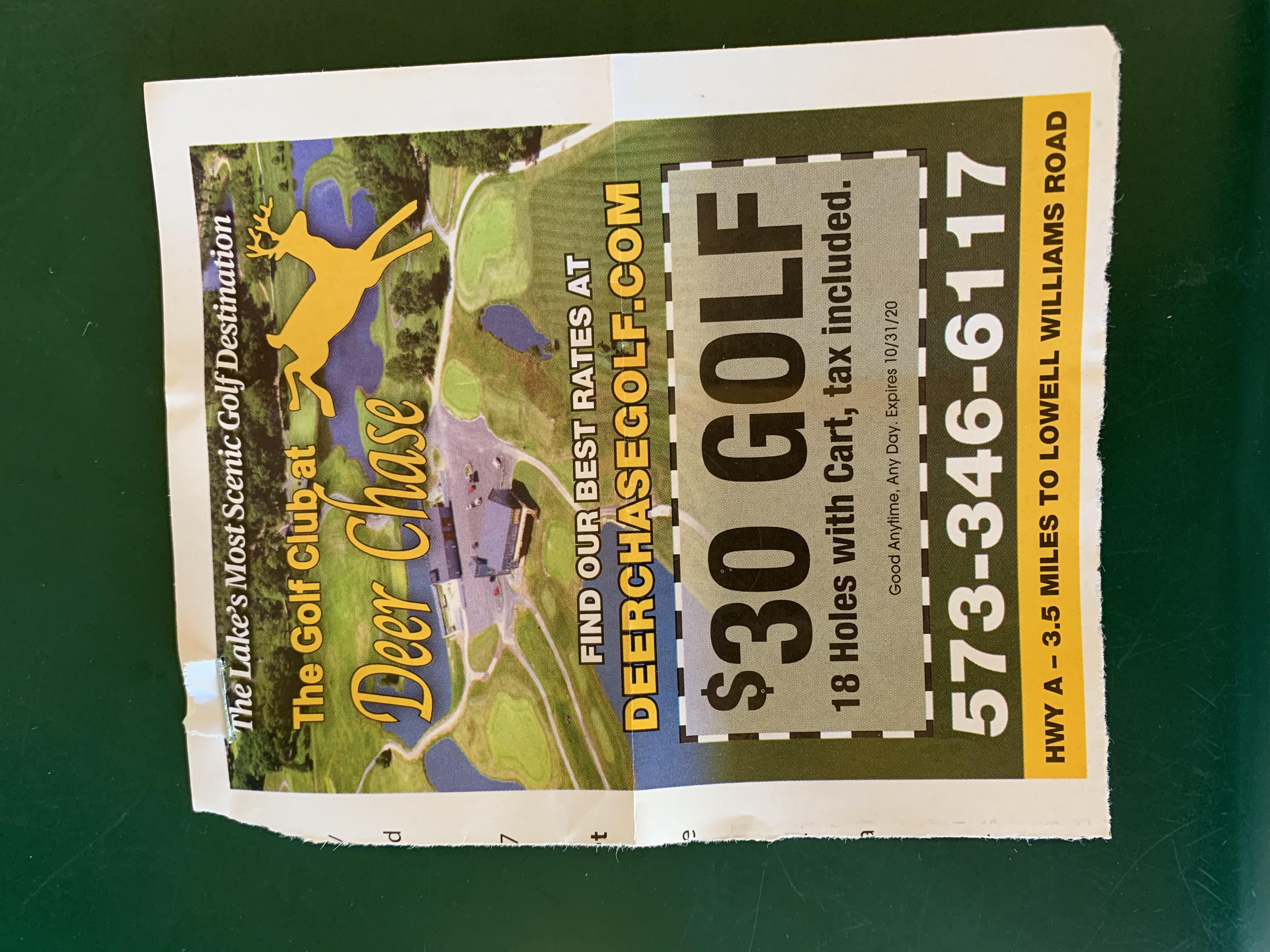 HOURS OF OPERATION FOR SEPTEMBER
Day of Week      1st Tee Time   Carts In BY
                   Monday         7:30 AM             5:00 PM *                
 Tuesday           7:30 AM            7:30 PM
Wednesday     7:30 AM            7:00 PM
Thursday          7:30 AM           7:00 PM
  Friday             7:30 AM            7:00 PM
Saturday           7:30 AM            7:30 PM
Sunday              7:30 AM             6:00 PM
*Snack shack is CLOSED on Mondays. Limited food options available. 

Sign up for our email list to get the latest news and promotions